That's a wrap!
2019 has been a colossal year for KRA's public art happenings around Katherine. With four new murals installed throughout the main strip of town, KRA and our partners have gone a long way in making our community a brighter and more creative place to live in.
These murals were created in collaboration between professional street artists from Proper Creative Darwin and local community members, bringing different aspects of our town and region to life through art. Some of these collaborations included the involvement of young local people, who helped design, paint and outline the murals. The below mural, titled 'Bats and Mangoes' was designed by Chloe Forscutt and installed by Chloe and Mackinlay Colling. Professional muralist Kaff Eine mentored and help execute Chloe's creation for the benefit of everyone passing on the Stuart Highway.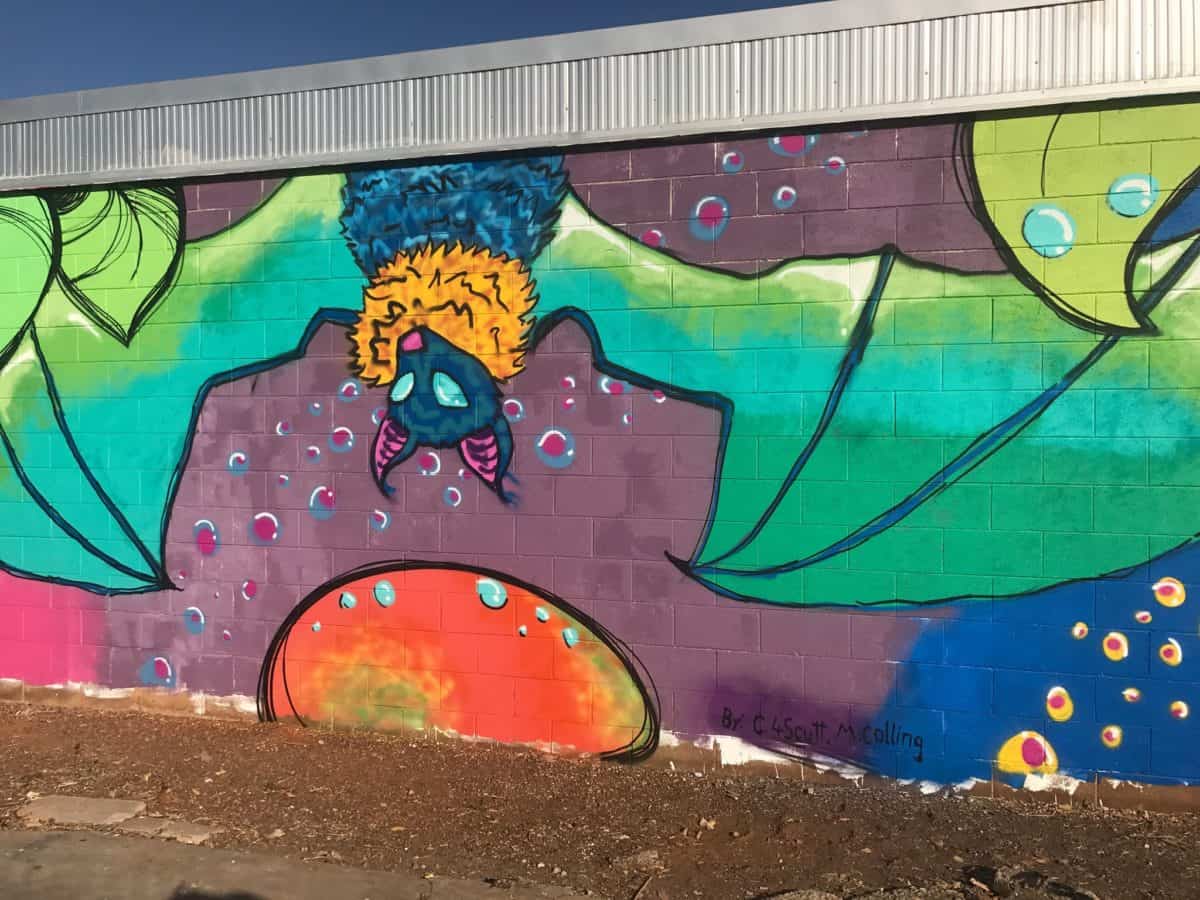 One of the Northern Territory's most notable muralists – Jesse Bell – was commissioned to create the below mural which commemorates the Royal Australian Air Force. It is positioned opposite the military memorial on Station Road.
'Neighbour' is our most recent mural and has already become a much-loved addition to the public art throughout Katherine. 'Neighbour' was also painted by Jesse and tells the unique and beautiful tale of a lesser known hero of our local region:
In 1911 Neighbour was arrested, placed in neck and hand chains and was walked to the police station at Roper Bar by a policeman on horseback. When they reached the crossing at the Wilton River, Neighbour swam across in chains and the policeman followed. However, the horse stumbled and the policeman was swept down the river. Despite being in chains, Neighbour dived into the river and saved the policeman from drowning. It is an incredible story of a heroic man. You will be pleased to hear the charges against Neighbour were dropped and he was awarded the Albert Medal for Bravery!
Many thanks to all the mural artists, Dave Collins and Proper Creative Darwin, Department of Chief Minister, Katherine Town Council and all the businesses who agreed to have their walls transformed into giant canvases as part of these respective projects.
We have had such a wonderful response from locals and visitors to Katherine Town alike. It's KRA's hope that this groundswell of support will lead to funding for more murals in 2020. Watch this space!